Director Spike Lee calls for boycott of "White Oscar Awards"
Comments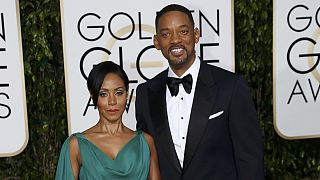 American director Spike Lee has vowed to boycott next month's Academy Awards ceremony because of the mostly white actors among the Oscar nominees.
Lee, the director of "Do the Right Thing" and 2015's "Chi-Raq," said he had timed his announcement with the national holiday commemorating slain civil rights leader the Rev. Martin Luther King Jr.
"How Is It Possible For The 2nd Consecutive Year All 20 Contenders Under The Actor Category Are White? And Let's Not Even Get Into The Other Branches," Lee wrote under the #OscarsSoWhite hashtag.
For the second year running black actors have been overlooked in the main categories. Ethnic minority nominees, including documentaries, and make-up do feature but Lee said this was not enough.
Both Idris Elba in Beasts of No Nation and Will Smith for his role in Concussion have been ignored by the awards jury.
The hashtag "Oscars So White" has been trending on Twitter after Michael B Jordan was not nominated for Creed, the much-lauded Sylvester Stallone film in the Rocky series, and the many young, first-time actors in Straight Outta Compton were also snubbed.
High-profile Hollywood stars boycotting this year's Oscars in protest of another year of mostly white nominees: https://t.co/BeibgyhWwz

—

NBC

New York (@NBCNewYork) January 18, 2016
Pinkett Smith, who appeared in two "Matrix" movies, also said she would skip the Feb. 28 ceremony.
"Maybe it's time we pull back our resources and we put them back into our communities, and we make programs for ourselves that acknowledge us in ways that we see fit, that are just as good as the so-called mainstream," she said in a video on Facebook.
Her husband Will Smith, who stars in the football injury drama "Concussion," and Idris Elba, who portrayed an African warlord in "Beasts of No Nation," were among black actors snubbed this year.
The black cast and director of hip hop biopic "Straight Outta Compton" were also left out.