Davos World Economic Forum opens with DiCaprio
Comments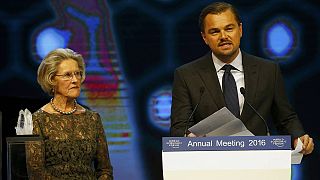 This year's World Economic Forum has opened in the Swiss ski resort of Davos in a climate of uncertainty as stock markets around the world experience their worst January in years.
During the summit a vast range of issues will be discussed by the globe's movers and shakers. The environment will feature heavily, and on the heels of the Paris climate deal celebrities urged delegates to do their bit.
"Last month in Paris world leaders reached an historic agreement that provides concrete framework for carbon emissions. This is an important first step but we're a long way off from claiming victory in the fight for our future and for the survival of our planet. The Paris agreement was a call to action but it's now up to all of us to build this progress with ingenuity and a commitment to change," said Leonardo DiCaprio.
DiCaprio was in Davos to receive a Crystal award for his environmental campaigning, and many other people were rewarded for their efforts and excellence in a number of fields.
Security this year is much heavier following last year's terrorist attacks in Europe, and the Swiss authorities are taking no chances with the assembled great and good.