Vital aid reaches thousands of besieged Syrians
Comments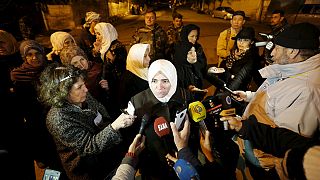 Humanitarian aid finally reached the rebel-held town of Madaya in Syria on Monday, bringing vital medical supplies and food.
Trucks bearing the Red Crescent logo were allowed into the town near the Lebanese border as part of an agreement between the warring sides.
Up to 40,000 people have been trapped by pro-government forces for six months and have been without aid since October.
#Madaya medics have eaten nothing for a week. Tired, weak, growing lines of sick patients – all residents desperate https://t.co/JZMlbDYI6L

— Doctors w/o Borders (@MSF_USA) January 10, 2016
Rebel groups Ahrar al-Sham and Nusra Front have food but they don't feed anybody," said one woman. "We had to make do by eating grass."
The UN said it had received credible reports of people starving to death in the town and elsewhere as a result of pro-government force tactics.
.AmbassadorPower</a> today on the 70th anniversary of the first <a href="https://twitter.com/hashtag/UNGA?src=hash">#UNGA</a> meeting and the crisis in <a href="https://twitter.com/hashtag/Madaya?src=hash">#Madaya</a>→ <a href="https://t.co/eV3Id4jWKG">https://t.co/eV3Id4jWKG</a></p>&mdash; US Mission to the UN (USUN) January 11, 2016
"There are hundreds of thousands of people being deliberately besieged, deliberately starved, right now," said the US ambassador to the UN. "And these images, they remind us of World War Two."
But Syria's ambassador to the UN, Bashar Ja'afari, denied the accusation:
"The information concerning the humanitarian situation in Madaya is based on false information. The Syrian government did not stop any convoys of humanitarian assistance, on the contrary, we sent plenty of convoys and we asked the UN to send more, but the more you send to these terrorists, they are terrorists, do you think they are angels? Of course they will confiscate this humanitarian assistance and use it as a matter of gaining at the detriment of the civilian population."
At the same time as help arrived in Madaya aid was also being delivered to two other besieged villages in Idlib province, Foah and Kefraya. An estimated 20,000 people have been trapped there since March.