Mexico begins 'EL Chapo' drugs lord extradition process
Comments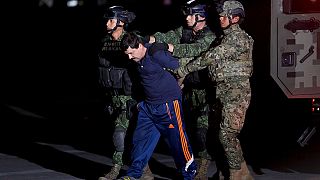 Mexico has started formal extradition proceedings against the captured drug lord Joaquin Guzmán, known as El Chapo – in the strongest sign it intends to send him to the US.
The infamous boss of the Sinaloa drug cartel and the world's most prominent trafficker was re-arrested in northwestern Mexico on Friday, following a manhunt of several months.
He was held two years ago but escaped from prison last July.
Mexico regularly extradites drugs barons but has resisted handing over Guzmán as a point of national pride.
A story published in Rolling Stone magazine may have indirectly led to his arrest, according to reports.
Hollywood star Sean Penn who met Guzmán a jungle hideout wrote in the article that he was sure US and Mexican authorities were tracking him.
The film star said the drugs lord had been interested in a film of his life.