Mexico 'wishes to talk to Penn and del Castillo' over El Chapo meeting
Comments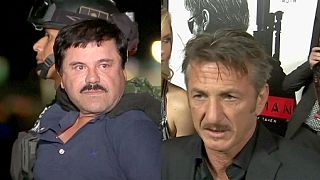 Mexican authorities wish to speak to actors Sean Penn and Kate del Castillo about a meeting they had with notorious drug lord El Chapo while he was on the run.
A government official said they wanted to hear the pair's side of the story to determine whether or not they had broken any laws.
Another government source said the interview published in Rolling Stone magazine had assisted in the capture of the cartel leader.
El Chapo, whose real name is Joaquin Guzman, was captured in Los Michos, north west Mexico, on Friday (January 8). He'd been in hiding for six months following a brazen escape from Altiplano prison through a mile-long tunnel.
Two months later, the leader of the largest international drug cartel in history was meeting Hollywood A-lister Sean Penn at an undisclosed location in Mexico. Assisted by Mexican actress and vocal supporter of Guzman, Kate del Castillo, he arranged the interview.
Now, El Chapo is once again being held in Altiplano, awaiting a decision from Mexico over whether or not he will be extradited to the US, where he would face a number of charges including drugs trafficking and money laundering.