CAR: former prime minister takes slim lead in presidential poll
Comments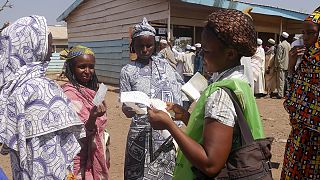 A former prime minister of Central African Republic has taken a slim lead in the country's presidential election.
With all votes in the capital Bangui counted, Faustin Archange Touadéra is said to have secured almost 31-thousand of them.
He is followed by another former prime minister, Anicet Georges Dologuele, according to election officials.
Interim President Catherine Samba-Panza, who was held office since May 2014, is barred from standing under constitutional rules.
Many voters are hoping the presidential poll will end years of violence.
Mainly Muslim rebels seized power in the majority Christian nation three years ago – forcing President Francois Bozize to flee and sparking reprisals from Christian militias.
A cycle of violence since has killed thousands and forced a million to flee their homes.
The country's economy is struggling, with uranium deposits undeveloped, the cotton sector in trouble and gold and diamond mines under the control of militias.
Votes from other areas outside the capital are due to be counted and verified over the coming days.
It was unclear whether Bangui's results represented national sentiment. A second round will be held on 31 January if needed.