Court in Indonesia delivers setback in government's fight against forest fires
Comments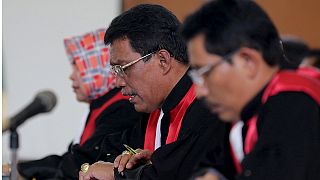 A court in Indonesia has delivered a setback in the government's bid to punish companies allegedly responsible for the country's annual forest fires.
The judge rejected a lawsuit in the region of 550 million euros against PT Bumi Mekar Hijau (BMH), one of the world's biggest pulp and paper companies.
The government alleged BMH failed to prevent the recurrence of fires in 2014 and 2015 on about 20,000 hectares of land in a region of Sumatra.
"The decision is against the people's will, who have been suffering from the impact of the fires. At the hearing we had presented the facts from the field that there was indeed forest burning in the location mentioned. The facts on the field also show that the company doesn't have adequate equipment to prevent and control the forest fires in that location," Rasio Ridho Sani director general for law enforcement at the Forestry Ministry told reporters outside the court.
The fires, a seasonal phenomenon which have been called "a crime against humanity" are part of a programme of forest clearance for new planting.
Nineteen people have died this year and it's estimated 500,000 cases of respiratory infections have been reported many suffering from smoke haze.
Indonesia is still pursing companies seen as responsible by suspending and in some cases revoking their environmental permits.