Cumbrian floods could cost UK insurers nearly seven billion euros
Comments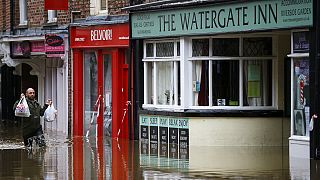 UK insurers are saying the bill for the latest floods in Britain could be north of 6.7 billion euros.
Others suggest insurance may soon be impossible for people whose property now floods repeatedly. Some people in Cumbria have been flooded three times since the end of November.
The prime minister has pulled on his boots to show willing for the cameras, but people are now starting to say the government has underestimated the risks.
"Well, we're spending more in this parliament than the last one and in the last parliament we spent more than the one before that. But of course after any of these events we should look at what we're planning to build, what we're planning to spend and think well, do we need to do more? We're going to be spending £2.3 billion on flood defences in this parliament but we'll look carefully at what's happened here and see what more can be done," said David Cameron in York.
The cathedral city of York, especially vulnerable to flooding, and its surrounding area has been one of the worst hit, despite extensive new flood defences. In densely built-up Britain, it seems no end to this now annual problem is in sight.