Paraguay declares state of emergency amid severe flooding
Comments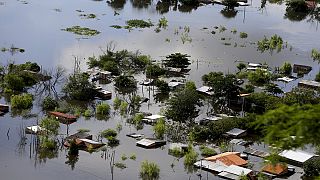 Severe flooding has forced more than 100-thousand people out of their homes in the bordering areas of Paraguay, Uruguay, Brazil and Argentina.
It has been sparked by heavy summer rains brought on by "El Nino."
The Paraguayan government has declared a state of emergency in Asuncion and seven regions of the country to free up funds to help those affected.
Several people have been killed by trees falling in the storms that caused the flooding, local media reported. There was no immediate word on a death toll.
In Alberdi, some 120 kilometres south of Asuncion, the government recommended that several thousand more people living along the banks of the River Paraguay evacuate.
This year's "El Nino," which sparks global climate extremes, is the worst in more than 15 years, the UN weather agency, the World Meteorological Organisation (WMO), said last month.