Russia rejects human rights report which accuses it of possible war crimes in Syria
Comments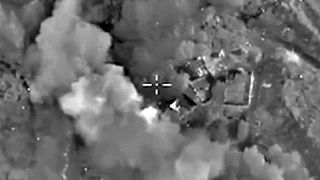 Defence officials in Moscow are dismissing an Amnesty International report on Russian strikes in Syria – saying it's based on unfounded allegations.
The human rights watchdog claims cluster munitions and unguided bombs have been used on civilian areas in recent months – killing hundreds of people – in what may amount to a war crime.
"Once more, nothing concrete or new was published, only the same cliches and fakes that we have already debunked repeatedly," said General-Major Igor Konashenkov, a Russian Defence Ministry spokesman.
"The report constantly uses expressions such as 'supposedly Russian strikes,' 'possible violations of international law' – a lot of assumptions without any evidence."
The Amnesty report focuses on six attacks in Homs, Idlib and Aleppo provinces. It denounces what it describes as Russia's "shameful failure" to acknowledge civilian killings.
The Kremlin launched its campaign in September, saying it wanted to help Damascus defeat ISIL and other militants.
It has repeatedly denied targeting civilians, saying great care is taken to avoid bombing residential areas.