Amnesty International accuses Russia of Syrian war crimes
Comments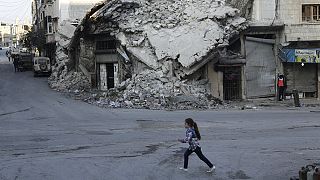 Amnesty International is accusing Russia of war crimes for its attacks in Syria. The NGO says airstrikes have cost hundreds of civilian lives and have targeted high density residential areas, markets and medical facilities, where no military targets have been apparent.
Amnesty International based its claim on telephone conversations with survivors and other witnesses.
Between 30 September and the 29 November this year more than 25 attacks claimed only civilian lives. Six of these raids killed at least 200 civilians and around 10 fighters.
"Our report issued today demonstrates how Russia has, we believe, committed war crimes in Syria, by directly attacking civilian areas, residential areas, including medical facilities. It's used inherently indiscriminate cluster munitions and it's used unguided bombs in densely populated areas. So, on those counts, we believe that it has most likely committed war crimes," says Amnesty's Neil Sammonds.
If verified these attacks could imply a violation of international human rights laws. Especially concerned are victims and families from the Homs, Idlib and Alep provinces.
In one of the worst documented atrocities three missiles were fired at a market in the centre of Ariha, killing 49. In another incident 46 people, mostly children and women, died in the basement of a building in the village of al-Ghanto.
Russia began its air campaign on September 30. It hunts terror groups like ISIL but also mercilessly crushes opposition to the Bashar al-Assad regime.
A Kremlin statement said it will examine the Amnesty report, and the foreign ministry said as of yet it had "no corroborated facts" about civilian losses in Syria.
Syria's opposition Human Rights Observatory counted from the end of September to the 21st December 2,132 people killed in Russian attacks, of which 710 were civilians including 161 children and 104 women.
The war in Syria which began nearly five years ago has now cost more than a quarter of a million lives and displaced millions of people.