Pu Zhiqiang: Chinese human rights lawyer gets suspended jail term
Comments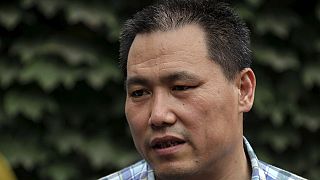 Pu Zhiqiang, one of China's most prominent human rights lawyers, escaped jail after he was convicted of "inciting racial hatred".
The conviction was based on social media posts in which Pu criticised government officials and policies.
His sentence was suspended for three years but he can no longer practise law.
"He's innocent, he's innocent," said Guan Jing, a supporter of lawyer Pu Zhiqiang.
"He didn't commit any act, there were only words. How can you convict someone because of words? Which words are wrong or which are the ones that we can use and the ones that we cannot? Is there a legal basis to regulate what a person can say or cannot say?"
The suspended sentence means Pu is released into a form of probation called residential surveillance for 10 days before being allowed back to his home in Beijing.
Amnesty International welcomed his release but said the guilty verdict was a gross injustice.
Activists said the three-year suspended sentence for Pu would serve as a strong reminder to other rights lawyers that the Communist Party, currently engaged in a severe clampdown on dissent, would brook no challenge to its rule.