Putin says Russia has more military capability than it's using in Syria
Comments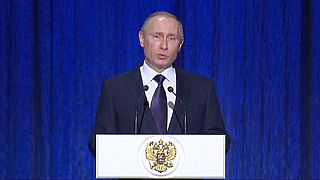 President Vladimir Putin says Russia is not using all its military capability in Syria and could do more if necessary.
He was speaking at a Kremlin function in Moscow to commemorate his country's security service members.
His comments came just a day after the UN Security Council backed a peace plan for war-torn Syria that included calls for a ceasefire.
"I want to stress that these are by far not all our capabilities," said Putin. "What we use is in Syria is a long way from all that we have. We have more military means and we will use them if we have to."
Russia is already carrying out airstrikes along with several other nations including Britain, France and the US.
But the country remains a key ally of Syrian President Bashar al-Assad and has continued to supply weapons to his regime despite international criticism.
The resolution adopted by the UN made no mention of the future role Assad, and the issue remains an area of contention between Russia and the West.
'US not after regime change in Syria, but Assad must go' – Kerry to Russian TV https://t.co/O9zUu17PWghttps://t.co/mlAHjQ18j2 Buy #cheap…

— Equity (@EquityxD) December 20, 2015