Colombia deal with FARC brings peace agreement closer
Comments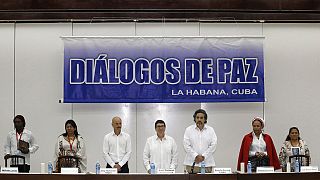 Colombia is a step closer to reaching a final peace agreement with the country's militants.
The Revolutionary Armed Forces of Colombia (FARC) has reached a deal with the country's government about how crimes of war and genocide committed by the militants would be handled.
The president of Colombia Juan Manuel Santo said it was the most complex item to be agreed upon.
"For the first time in its history, the FARC has committed to the contribution of compensation for the victims," said Santos.
"The turning point of this agreement is the fact that there will not be any amnesty for crimes against humanity, the grave crimes of war, genocide and in general, the great violations of human rights," Santos added.
The fighting has cost the lives of 220,000 people and displaced millions. The deal will see the courts reducing sentences for those militants who admit guilt.
It has helped revive the chances of reaching a March deadline for ending five decades of armed conflict.