President Barack Obama calls for more military support in fight against ISIL
Comments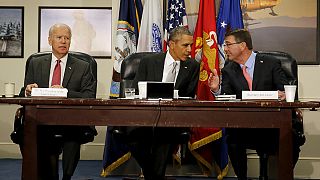 President Barack Obama is calling for more military contribution for the coalition in the fight against the so-called Islamic State terrorists and revealed the US Defense Secretary Ash Carter would travel to the Middle East on Tuesday to secure more support.
"Lat month in November we dropped more bombs on ISIL targets than any other month since this campaign started. We're also taking out ISIL leaders and commanders and killers one by one," the president told reporters at the Pentagon.
Commentators say the speech was as much to ease public concern in the US where around 70 percent believe the risk of an attack is at least somewhat high.
"W're going after ISIL from their stronghold, right in downtown Raqqa to Libya, where we took out Abu Nabil, the ISIL leader there. The point is ISIL leaders can't hide and our next message to them is you are next," asserted the president.
The fight against the terrorists, admitted the president was "difficult" and that progress needs to come faster. Forces would continue to "hammer" targets like oil wells and refineries and he referred to the group as, "thugs, thieves and killers."
President Obama also said Secretary of State John Kerry was travelling to Russia to discuss the civil war in Syria with leaders there.