French police hunt for man who stabbed teacher as a "DAESH warning"
Comments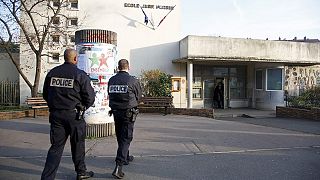 A huge manhunt is underway in St Denis north of Paris after a teacher was stabbed in a nursery school before classes began. Police immediately sealed off the Jean Perrin school in Aubervilliers near Paris, but the assailant slipped away.
The teacher was able describe his attacker as hooded and claimed he said it was a warning from ISIL, or Daesh in his words.
"It is an extremely serious act, in a school, which is supposed to be a sanctuary. We will continue, with the Minister of the Interior, to reinforce the current safety measures in a context where yes, schools feel threatened. Teachers have told us and we have to be there." said Education Minister Najat Vallaud Belkacem.
Islamic State only last month made a publicised attack on the French state education system for its secular teaching and "haram" subjects like music and drawing, encouraging followers to kill teachers.
The attack comes just days after a stabbing in London was described as terrorist by police.