Migrant couple are stuck at Macedonian border - because he's Afghan and she's Iranian
Comments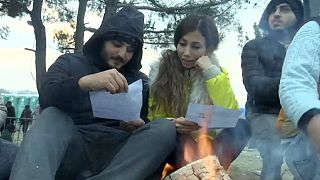 In a squalid tent camp on the border, with temperatures barely above freezing, a young, married couple are in turmoil.
Macedonian authorities are only letting Afghan, Syrian and Iraqi refugees enter from Greece en route to western Europe.
And while Afghan national Abos is eligible to make the crossing, his wife Nasim can't join him, as she is Iranian.
She claims Macedonian officials have even suggested the pair divorce so that at least one of them can continue the journey to Germany.
"We don't want that," insisted Nasim, whose extended family of 21 Iranians are also unlikely to be allowed in.
"We want to be together."
Greece, the main entry point into the EU for migrants and refugees, has agreed to accept help from the bloc's border agency Frontex.
Athens says that Europe, so far, has failed to do enough.
"Since May, Greece has persistently been asking for technical, technological and staffing help and what it has received from Europe is far less than what was asked for," said Greek Deputy Foreign Minister Nikos Xydakis.
Tension has already erupted at the border where a Macedonian fence remains firmly shut to some 3,000 Moroccans, Pakistanis, Iranians and others.
1000s still stuck at Greek-FYR Macedonia border https://t.co/JqNMT6UkOb#Europepic.twitter.com/VEKpbjl2Hx

— UN Refugee Agency (@Refugees) December 5, 2015
And with more new arrivals all the time, frustration in 'No Man's Land' is growing.