Pacific Islands bear brunt of climate change, says activists
Comments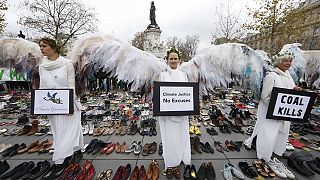 Dozens of activists at the COP 21 summit in Paris have taken part in the so-called Run for your Life, a relay race from the Arctic across northern Europe to the French capital.
Each person carries a story they've shared along the four-thousand kilometre relay.
Euronews spoke to several Pacific Islanders who say they are bearing the brunt of the effects of climate change.
"It's not just an environmental issue, it's a human issue, it affects everybody," explained Milan Loeak from the Pacific Indigenous Network, Marshall Islands. "But we are more adamant about it, more passionate about it because we are at the frontline, we feel it every day. That's why we are here".
"I'm one of those awareness group of people who are very much concerned with our people," said Touraine Elaine Marsters from The Cook Islands. "And what we do is we go out and advise them that now is the time to adapt to climate change by moving inland, away from the coastal areas."
Other activists told euronews that an average temperature increase of two degrees Celsius translates to a rise of between six to nine degrees in the Arctic, dramatically affecting the way of life there.