Calls for calm as tensions rise over Turkish downing of Russian jet
Comments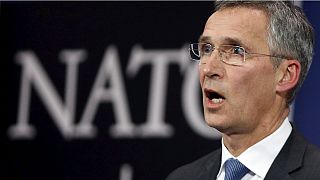 NATO, the UN and Washington expressed their support for Turkey after its military shot down a Russian jet claiming it had violated its airspace.
But there's also been a chorus of warnings to both Ankara and Moscow to keep calm.
Russia says the jet was nearly a kilometre inside Syria. President Putin called the incident "a stab in the back" and has talked of serious consequences.
Putin brands Turkish as 'accomplices of terrorists' after shooting down military jet https://t.co/OMKgf1wR0rpic.twitter.com/UOlAi4uvZk

— Daily Mail Online (@MailOnline) November 25, 2015
Of the two pilots of the Russian SU-24 jet, one is believed to have been killed, while the other has, according to Russia's ambassador to France, been picked up by the Syrian army.
What has been confirmed is that a Russian marine sent to rescue the crew died when his helicopter came under fire from rebels in northern Syria.
NATO

sticks together

It's the the first time a NATO member state has shot down a Russian warplane since the Korean war in the 1950s.

"We stand in solidarity with Turkey and support the territorial integrity of our NATO Ally, Turkey. I look forward to further contacts between Ankara and Moscow and I call for calm and de-escalation," said NATO chief Jens Stoltenberg.

In Ankara, the Turkish president, Recep Tayyip Erdoğan, summoned his top generals to an emergency national security meeting to decide Turkey's next step. The Turkish government said the Russian plane had been warned 10 times to turn back as it approached the border, but had still flown into Turkish airspace for a few seconds. Ankara stressed the incident had followed a string of Russian incursions in recent weeks.
demonstrations
On Tuesday evening dozens of demonstrators gathered outside the Russian Consulate in Istanbul to protest against Moscow's operations in Turkmen regions of Syria where the jet came down. They claimed solidarity with the ethnic group who have been fighting against the Assad regime.
"Turkmen militiamen"http://www.independent.co.uk/news/world/middle-east/turkmen-the-ethnic-group-who-killed-two-russian-pilots-in-syria-a6747251.html in Syria claimed to have shot the pilots as they descended on parachutes from the stricken Su-24 bomber. The Turkmen rebels, who are supported by Ankara, claim to have been the target of Russian bombing on previous occasions.
In Moscow there were equally vocal protests outside the Turkish embassy in Moscow, with people carrying signs saying "Turkey are you in favour of or against ISIL? and "'we will not forgive'.
The UN has called for an inquiry into the downing of the jet.