Fate of pilots of downed Russian jet unclear
Comments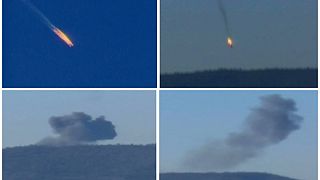 Moscow has confirmed one of its SU-24 planes has been shot down by Turkish jets sparking an escalating diplomatic row between Moscow and Ankara which has drawn in Nato, the US and several other states.
Turkey says the plane had violated its airspace. Russia denies the claim stressing it was flying over Syria at the time.
Ankara has backed up its assertion with radar images. The bombing mission involved flying a loop with the plane going through Turkish airspace. That's the point at which it's claimed it was shot down.
A spokesman for the US-led coalition against the so-called Islamic State confirmed the Turks warned the Russian plane 10 times before it shot it down.
The two pilots ejected. A Turkish government official has said he believes they are still alive and is working to secure their release from opposition rebels in Syria.
That is contrary to claims they have been killed by Turkmen rebels. They are ethnic Turks who live in the region of Syria. Their main opponents are the regular army and the militant jihadist group ISIL. A deputy commander claims they opened fire on the two Russians.
"We have caught the pilots and both of them are dead," said Alpaslan Celik. When asked by a journalist if they were dead after ejecting from the plane the commander says, "All our friends, all of us fired into the air. They died when they were in the air."
Russians have been advised not to visit Turkey by Foreign Minister Sergei Lavrov who its reported has cancelled a visit to the country planned for Wednesday.
In the UK Downing Street says Prime Minister David Cameron has encouraged Turkey and Russia to have "a direct conversation" over the matter.

Turkey military releases audio of "warnings' to downed Russian plane
Live updates
---
Media sources report Nato has called an "extraordinary meeting".
It is the first time a Nato member's armed forces have downed a Russian or Soviet military aircraft since the 1950s.
Turkish Army released the tracing of the route the shotdown Russian plane flew, violating Turkish airspace euronews</a> <a href="https://t.co/gXtUjQQZ0w">pic.twitter.com/gXtUjQQZ0w</a></p>&mdash; Bora Bayraktar (Bora_Bayraktar) November 24, 2015