Turkey downing of Russian plane "a stab in the back" says President Vladimir Putin
Comments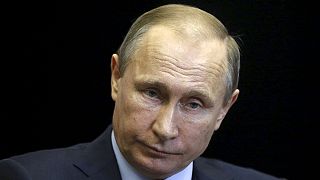 Russian President Vladimir Putin has said the Russian plane which was shot down had in no way threatened Turkey but was doing its duty in the fight against militants in Syria.
He was speaking ahead of a meeting with King of Abdullah of Jordan in the Black Sea resort of Sochi.
"Today's loss is linked to a stab in the back delivered to us by accomplices of terrorists. We will carefully analyse what has happened. And today's tragic event will have serious implications for Russian – Turkish relations," he said.
Turkey has warned Russia in the past about the consequences of any incursions into its airspace and its right to react.
"We have never been a country which had designs against another country. But everyone should know that Turkey has the right to respond if its airspace is violated despite repeated warnings," Turkey's Prime Minister Ahmet Davutolgu told reporters.