Hollande to hold talks with Obama over revamping efforts to defeat ISIL
Comments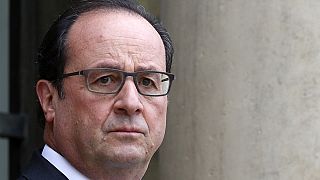 French jets from the Charles de Gaulle aircraft carrier have begun striking ISIL targets in Iraq while Britain offered France the use of an air base in Cyprus to hit the militants behind the Paris attacks.
It comes as French President Francois Hollande started a week of frantic international diplomacy aimed at pulling together an international coalition including Russia to defeat ISIL. He's set to meet all five permanent members of the UN Security Council.
He meets President Obama later today.
White House spokesperson Josh Earnest:
"This is a time when the French people are grieving knowing that they can count on the most powerful country in the world to have their back, as they determine what is necessary to strengthen homeland security in their own country."
But while Hollande may want to include President Putin, analysts such as William Taylor believe President Obama is reluctant and still wants Putin punished over his aggression in Ukraine. During Obama's recent trip to Asia, his aides said there cannot be an expectation of Russian cooperation in exchange for sanctions relief.
"They (the Russians) are not yet part of the solution in Syria, as long as they continue to support Bachar al-Asad in Syria, they will continue to make the refugee problem worse and they will continue to hurt the effort to fight ISIS," said Taylor who is Vice President at the US Institute of Peace.
Correspondent Stefan Grobe said that President Obama has one message for Hollande: "Stay the course against Putin – no concessions on Ukraine in exchange for more Russian airstrikes against ISIL."