France to clamp down on the financing of terrorism
Comments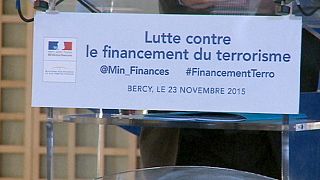 France will ask for a new EU directive on money laundering and terrorist financing to be pushed through at a swifter pace.
At a press conference in Paris, French Finance Minister Michel Sapin also announced new national measures to toughen laws on financing terrorism.
The initiative will put tighter restrictions on cash transactions and transfers.
"We're going to be supervising more strictly the use of prepaid cashpoint cards, which were used in the November 13 attacks, in order to reduce the anonymity in their use," said Sapin. "Next, we will extend France's national security arrangement, from the freezing of terrorist assets, to real estate investments and cars."
New warnings will be issued to the banking industry, putting fresh emphasis on its monitoring duties.
Sapin stressed that other governments must also do their part and called for the Financial Action Task Force's February report to specifically identify countries not working hard enough to clamp down on the financing of terrorism.