Violent clashes force cancellation of Athens football derby
Comments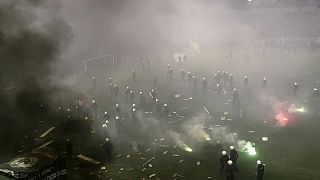 An Athens football derby between Panathinaikos and Olympiakos has been called off after violent clashes at the stadium where it was due to be played.
It started with trouble outside the Apostolos Nikolaidis ground and then a flare exploded on the pitch.
After it was cancelled, there was a mass pitch invasion and fans scuffled with riot police.
Supporters tossed flares, ripped up seats and threw other missiles at police, who responded by firing tear gas at the swathes of fans to disperse them.
The violent scenes were reminiscent of the same fixture last season, which Panathinaikos won 2-1 but were later handed a three-point deduction, a two-match supporters ban and were fined for an unsavoury pitch invasion after the final whistle.
It was hoped Saturday's match would be an entertaining affair, with Olympiakos arriving on the back of a perfect 10-match winning streak since the start of the season.