'Criminal investigations opened' following Crimea blackout
Comments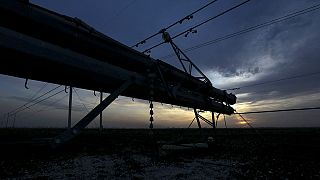 A number of criminal investigations have reportedly been opened in Ukraine after power lines carrying electricity into Crimea were sabotaged.
The peninsula declared a state of emergency and has announced Monday will be a non-working day.
Crimea was left in total blackout following the power cut.
Hours later, some 1.6 million of the 2 million-strong population remained without electricity.
Emergency supplies were turned on for buildings deemed in critical need.
Others have back-up generators.
Electiricity board 'ready to repair towers'
Reports from Ukraine suggest the electricity board is ready to repair the damaged transmission towers, but pro-Tatar demonstrators are blocking the area.
The Crimean Tatar ethnic group has been vocal in its opposition to the Russian annexation of the peninsula in 2014.
Kyiv and Moscow are still disputing Crimea's sovereignty.
Right Sector Ukrainian nationalists have also clashed with paramilitary police in the area surrounding the destroyed pylons, according to local media.