Aid agencies fear for thousands of migrants with new border controls in western Balkans
Comments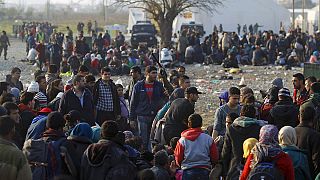 In Greece's main port of Piraeus the 'Ariadne' docked with over 1500 migrants on board.
But around 85 of them were detained after it was discovered their papers aroused suspicion.
The move came after police arrested 10 foreigners for supplying forged passports and registration documents to migrants.
In the western Balkans new border controls have left thousands of refugees stranded.
The United Nations refugee agency says the move happened overnight with three countries denying a passage to migrants from states that are not directly engulfed in wars.
The former Yugoslav Republic of Macedonia has denied entrance from Greece to people from Morocco, Sri Lanka, Sudan, Liberia, Congo and Pakistan.
The situation on the Serbian border with FYROM was reported to be similar with the Serbs only allowing refugees from Syria, Afghanistan and Iraq.
Around 200 had been turned back from Serbia but were stuck in "no-mans land" as FYROM had not let them in.
Aid agencies fear thousands will be left in limbo as winter approaches. The UNHCR says there is now an urgent need to put in place additional reception capacity at the points of entry.