Turnout vital in key Turkish election for the country and region
Comments
By
Euronews
with
Bora Bayraktar, Chris Cummins and agencies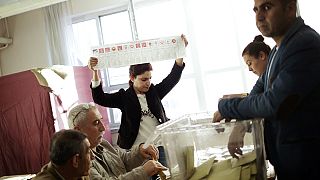 Turkey is going to the polls in a key election for the country and the region.

#TurkeyElections: Polls open in 26th general election #Turkeyvoteshttps://t.co/AhOinuk4cGpic.twitter.com/cfc9uibOGF

— ANADOLU AGENCY (ENG) (@anadoluagency) November 1, 2015
It is the second vote this year with the Kurdish HDP looking for fresh gains.

Turkey: Erdogan's party seeks majority in snap election (https://t.co/Hg0KSlIk2A) https://t.co/NUnc5zpNvNpic.twitter.com/iyGkqdv0kz

— 1001portails UK (@1001ptsUK) November 1, 2015
Turnout is a vital ingredient as there is a strong whiff of voter fatigue in the air.
As one man in Ankara explains:"I see a weariness in people. These elections come round every three to five months. If we believe this is good for our country let's wait until morning. It's better to find solutions rather than have more elections. It is better to find ways ways of governing properly. Otherwise people simply distance themselves from politicians."
Not everyone is so jaded: "I hope this will be good for Turkey. I am very happy and I can't wait to hear the result. I wish my country the very best," countered another.
Bora Bayraktar our Correspondent in Ankara says:" This is the fourth election in one and a half years and election fatigue is obvious. Still voters are turning out early. People want a functioning government after the election.