Turkish vote has profound domestic and international implications
Comments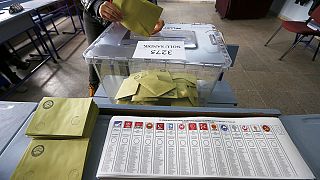 The Turkish general election is being played out against a deteriorating security situation both inside and outside its borders and a sluggish economy.
President Recep Tayyip Erdoğan will be hoping the snap election will restore his AK Party 's majority, which they lost in the last vote for the first time since 2002.

MT @HDNER: Pres Erdoğan casts his vote in Istanbul for #TurkeyElections stressing high turnout http://t.co/nacLd7222Mpic.twitter.com/A5NNTVzOAA

— EUROPOLITICS (@EUROPOLITICS_sa) June 7, 2015
Prime Minister Ahmet Davutoglu is leading the
AKP
fight, which has lacked the pomp and razzmatazz of recent elections, a move which reflects the sombre mood within the country.
Live blog: Turkey's PM Ahmet Davutoglu votes in his hometown of Konya https://t.co/KsS2i38Ztwpic.twitter.com/wiucjfe8ah

— TRT World (@trtworld) November 1, 2015
Stability and trust have been the campaign pillars of the AKP campaign.
The Kurdish HDP and its co-leader Selahattin Demirtaş have had to fight a campaign knowing that more than 100 of its supporters were killed in a bomb attack in the capital Ankara.

Live blog: HDP co-leader Selahattin Demirtas votes in Sultanbeyli, Istanbul https://t.co/KsS2i38Ztwpic.twitter.com/Umo8Xh4M5T

— TRT World (@trtworld) November 1, 2015
How a Bomb Blast in Ankara Became Politicized Before Election Day https://t.co/OOa8VzI6WV via @BenjaminHarveypic.twitter.com/5R65hP9gcu

— Marcus Bensasson (@mbensass) October 23, 2015
Kemal Kılıçdaroğlu the leader of the Republican People's Party, the main opposition to Erdoğan since 2010, will be hoping for an erosion of the AKP vote in order to reign in Erdoğan's perceived desire to dominate Turkish politics.
Kemal Kılıçdaroğlu Ankara'da oyunu kullandı: https://t.co/NiiAMxskJd#oykullanpic.twitter.com/hyAJyZOtVi

— odatv video (@odatvideo) November 1, 2015
The AKP has played the card that when the going gets tough, stick with what you know.
The raids on opposition linked media, the closure of two TV stations and the seizure of newspapers has further soured the campaign and heightened fears in the West that freedom of speech in under threat.
Today Turkey decides.