Turkish voters take to polls in decisive snap general election
Comments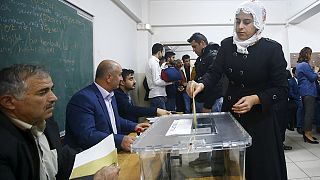 Polling stations across Turkey are ready to receive voters for the country's second general election of the year.
The outcome will be important for domestic stability and Ankara's role in helping to resolve the conflict in Syria and Europe's refugee crisis.
Indeed, "stability" has been the key word used by President Tayyip Erdogan's AKP. The Islamist-rooted party failed to reach a majority in June's election and are hopeful that Prime Minister Ahmet Davutoglu will regain lost votes.
If not, the AKP may have to share power.
One of those possible partners in government is the nationalist MHP, a far-right party and the third most voted earlier this year.
The main opposition leader Kemal Kilicdaroglu of the republican CHP has said that any coalition deal would only take place if President Erdogan gave the group a guarantee that he would not attempt to gain further constitutional power.
Recent violence in the Kurdish southeast could give nationalist parties like the ruling AKP more support, but is also likely to help the pro-Kurdish HDP maintain their votes.
The group entered the parliament in Ankara for the first time in June, when it crossed the 10 percent threshold.
A result is expected late on Sunday.