Syria talks in Vienna: world and regional powers present but no Syrians
Comments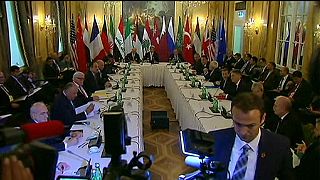 International leaders are gathering in Vienna to discuss how to resolve the war in Syria, now in its fifth year. For the first time, Iran is taking a seat alongside the world powers and even Tehran's regional power rival Saudi Arabia. A first round of bilateral meetings was held on Thursday in the Austrian capital.
French Foreign Minister Laurent Fabius said: "The priority is to fight the radical Islamic State movement, Daesh, and then to organise a political transition. Obviously, President Assad, who is responsible for most of the Syrian tragedy, cannot be part of its future."
Some 250,000 people have been killed in the war, and 11 million have been forced from their homes. Syria's main political and armed opponents of President Assad are not at the international talks, objecting to the presence of Iran.
Our correspondent Daleen Hassan summed up: "The mood in Vienna is essentially one of cautious optimism. Since all the regional and international parties were invited but not the Syrians, the question is whether these talks can lead to a roadmap for a peaceful solution to the war in Syria? Or will this turn out just another non-productive international meeting which fails to end the bloodshed which began four years ago?"