Migrants on Slovenia-Austria border 'being overcharged for basic supplies'
Comments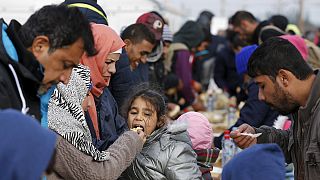 "We're waiting here at the border for many hours, and the Slovenian people are selling pizzas…" These are the words of one among some 2,000 migrants waiting to cross the Slovenian-Austrian border.
Many waiting to make the crossing from the village of Šentilj say they are being overcharged for basic items in an attempt to survive.
Euronews spoke to Mohammed, a Syrian who says he's been seeing the same thing for the past 20 days. People, he says, are even selling medical supplies at much higher prices than usual.
Others say there is a dearth of aid agencies and supplies, with only the police visible, despite low temperatures.
Rashed, also from Syria, said the weather had been cold for at least two days, but he had not seen any aid agencies.
Euronews journalist Attila Magyar sent this report from Šentilj:
"Though the winter is coming it seems the number of people arriving from the Middle East is not slowing down. We have seen that the authorities have, so far, not prepared for the cold weather. This situation could offer up fresh opportunities to the profiteers."
Along the same stretch of the border, some locals could purportedly be seen handing out free hot meals at migration centres.
The flow of migrants changed route in October, 2015, when Hungary fenced off its border with Croatia. Those trying to reach Germany are now heading through Slovenia.
Slovenia has asked for international help to cope with the influx. In the last week (up to October 27), a reported 50,000 migrants arrived in the country, which has a population of just two million.