FIFA crisis: Blatter open fires on Platini
Comments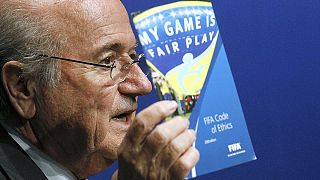 Embattled FIFA President Sepp Blatter has publicly gone on the attack for the first time since his 90-day suspension began.
In a wide-ranging and stinging interview with Russian state news agency Tass, Blatter criticised UEFA chief Michel Platini, general secretary Gianni Infantino, FIFA's ethics committee, American authorities and the British press among others.
The 79-year-old highlighted his feud with Platini – who is also serving a 90-day ban – saying the Frenchman 'was against me' in reference to Platini's calls for his resignation following the indictment of 14 officials and marketing executives by U.S prosecutors in May.
Blatter said that after Platini's calls for him to step down it became political with nations such as England and the US — who both lost out hosting the 2018 and 2022 World Cups — joining the ranks in a bid to topple the FIFA head.
On that issue Blatter, who has been in power since 1998, added ''the FIFA World Cup or the FIFA president is a ball in the big political power game.''
In the interview Blatter suggested there was an agreement in place for Russia to host the 2018 World Cup – before the vote took place and that the 2022 edition had been planned for the US and blamed Platini for a late swing in voting that gave Qatar the tournament instead.
He said "It was agreed inside the group that we go to Russia because it has never been to eastern Europe, and for 2022 we go back to America.
"And so we would have the World Cup in the two biggest political powers."
According to Blatter four votes from Europe later switched from the USA to Qatar.
The bidding process for those two editions is now the subject of an ongoing Swiss criminal investigation.
With Platini also serving a ban UEFA's general secretary Gianni Infantino has been given the European body's full backing to stand for the FIFA presidency.
Blatter took the opportunity in the interview to blast Platini's right hand man saying: ''Most of the national associations don't like Infantino.''
The interview has given the clearest insight into Blatter's views since his ban pending a full investigation into a 1.8 million euro payment to Platini in 2011 for work undertaken nine years earlier.
The election to replace Blatter takes place on February 26th at which point FIFA will hope to turn the page on the worst chapter of its 111-year history.