Meat cancer report: fear and confusion
Comments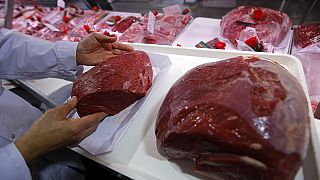 Many people have responded to a World Health Organisation report carried out by the International Agency for Research on Cancer (IARC) — which put processed meats such as ham, sausage and salami together with asbestos and tobacco on a list of carcinogens — with fear and confusion.
Some have even been asking their butchers for an explanation.
"You need to ask the older people," said one butcher at a meat market in the French city of Lyon. "Those who are 90, who come here every day to buy slices of sausage and meat pies. They're the people you need to ask, not us. We've not killed anyone until proven otherwise."
"It's clear we shouldn't eat vast quantities of it," said one woman. "We need to be aware of eating less and well."
Farmers and food groups have
asked consumers not to a panic over the report, which also linked consuming red meat and some cancers.
But one European association of nutrition specialists was quoted as saying that red meat sales had already started to fall at traditional butchers.
The news prompted animal rights activists People for the Ethical Treatment of Animals (PATA) to offer free vegan diet starter kits and outraged agriculture groups.
The Canadian Meat Council rejected the findings as simplistic, while trade group North American Meat Institute said the IARC report "defies common sense."
Some scientists and researchers said the news may not add much to long-standing health recommendations to limit consumption of such meat.
The IARC does not compare the level of risk associated with different substances in a given category, so does not suggest eating meat is as dangerous as smoking.
"Nobody is telling people not to eat meat," said David Wallinga, senior health officer for health and environmental advocacy group Natural Resources Defense Council. "What they're saying is if you eat it, eat less of it and buy it from sources that have produced it better."
Meat-heavy diet
The medical community has long thought there could be a link between red or processed meat and colorectal cancer, said Tim Key, a professor at Oxford University.
"Eating a bacon bap every once in a while isn't going to do much harm; having a healthy diet is all about moderation," Key said in a statement from charity Cancer Research UK.
According to estimates cited by the IARC, 34,000 cancer deaths per year worldwide are attributable to diets high in processed meat. About 1 million cancer deaths per year are due to tobacco smoking, it said.