Balkans struggle with migrant crisis as winter looms
Comments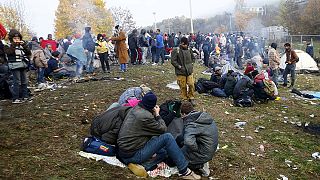 EU and Balkan leaders may have agreed a new plan at the weekend to tackle the refugee crisis but in the meantime the steady flow of migrants continues.
One -hundred-thousand extra spaces in refugee reception centres are to be made available in Balkan countries, but Slovenia which is struggling to cope needs help now. More than 76,000 migrants have arrived in the country from Croatia in the past 10 days.
The UN's refugee agency the UNHCR has warned that bad weather may cause tragedies… there have already been case of hypothermia among people waiting in the cold.
Antonija Zaniuk of Slovenia Red Cross said the hardest thing to manage at the Brezice refugee camp where she was working was when people became restless and wanted to move on the the next leg of their journey across Europe:
"Short-term the situation is manageable. We have a lot of winter clothing, blankets (for the migrants) to cover themselves with. We are distributing cups of tea, food. So short-term there is no problem."
Croatia is one of the first countries to prepare for the winter months.
It's building more substantial shelters at a transit camp on its border with Bosnia at Slavonski Brod which will be able to accept 5,000 people.
But another approach is to persuade refugees to wait in Greece for paid flights to other countries offering asylum rather than risk dangerous winter treks through the Balkans.
The European Commission has also announced €5.9 million in emergency funding for Greece in the wake of the a mini-summit in Brussels which agreed on a 17-point plan to deal with the refugee crisis unfolding in the Balkans.