MEPs react to EU-Balkans summit
Comments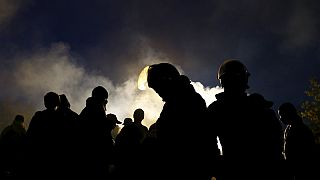 At the start of yet another meeting of the European Parliament in Strasbourg, MEPs were far from optimistic after Sunday's EU-Balkans summit.
That meeting aimed to find new ways to stem the influx of refugees along the so-called Western Balkans route.
Thousands are crossing into Slovenia from Croatia.
"So far we didn't see a proper response of all European countries, quite the opposite: we saw a lot of individualism. we saw some countries closing down the borders, a lack of solidarity and all this is actually causing a lot of intolerance in Europe," said Tanja Fajon, a Slovenian centre-left MEP.
But member of Angela Merkel's CDU party said there was agreement that proper procedures for registering refugees should be observed.
"In Greece, the registration should be done," said Elmar Brok, who chairs the parliament's foreign affairs committee.
"It must be brought order into that! and it's not possible anymore just to bring the people through the countries to Germany, to waive them through. after this decision that is not possible anymore. Therefore i think it's an important building measure to come to a better situation."
EU leaders will return to the topic in two weeks time when they meet with their African counterparts at another migration summit this time in Malta.