The more things change, the more they stay the same… So goes the phrase penned by French critic Jean-Baptiste Alphonse Karr. The world has seen many
The more things change, the more they stay the same… So goes the phrase penned by French critic Jean-Baptiste Alphonse Karr. The world has seen many changes over the past three decades sparked by technology, but in some social and political affairs only names and faces appear to have changed. Here's a selection of what was news in 1985 and what people are talking about now.
1985
Two Afghan guerillas line up an 82mm recoiless rifle for their daily round of firing at a Soviet security post along the main highway west of Kandahar.
2015
Afghan National Army soldiers fire artillery during a battle with Taliban insurgents in Kunduz.
1985
Hundreds of Afghan refugees flee through the streets of Islamabad after Pakistani police broke up a protest near the Soviet Embassy in Islamabad, Pakistan.
2015
An Afghan migrant jumps off an overcrowded raft onto a beach at the Greek island of Lesbos.
1985
A Chevrolet car is parked in a street of Old Havana, Cuba
2015
Retiree Lance Veit ©, 65, from California, enjoys a ride in a vintage car at the seafront Malecon during a cultural exchange trip in Havana, July 11, 2015. The United States and Cuba formally agreed to restore diplomatic relations as of July 20
1985
Launch of the Commodore Amiga 1000
2015
An Apple iWatch
1985
Israel's Defence Minister Yitzhak Rabin (5th R), Prime Minister Shimon Peres (4th R) and Industry and Trade Minister Ariel Sharon (2nd R) watch the final stage of a large scale military manoeuvre.
2015
Israel's Prime Minister Benjamin Netanyahu © chats with Israeli soldiers at a military outpost during a visit to Mount Hermon in the Golan Heights.
1985
Issam Abdel Satter, 24, carries a Kalashnikov rifle in this photograph taken before he killed himself in a suicide car bomb attack on a pro-Israeli militia in South Lebanon.
2015
Lebanese Army soldiers inspect a cafe where a suicide bomb attack took place in Jabal Mohsen, Tripoli.
1985
Pope John Paul II reaches out to touch the hands of Venezuelans who came to see him in Caracas
2015
Pope Francis waves to the faithful while riding on a popemobile in El Quinche, Ecuador
1985
Mikhail Gorbachev ©, General Secretary of

CPSU

CC seen shaking hands with the Chairman of the Revolutionary Council of Afghanistan
2015
Russian President Vladimir Putin and former Afghan President Hamid Karzai at the Kremlin in Moscow.
1985
Former tennis star Bjorn Borg sits with girlfriend Janike at the launch of the "Bjorn Borg Menswear Collection" in Paris
2015
Former England captain David Beckham with his daughter, Harper, on his lap and son Brooklyn during a presentation of the Victoria Beckham Fall/Winter 2015 collection during New York Fashion Week
1985
Nancy and Ronald Reagan
2015
Barack and Michelle Obama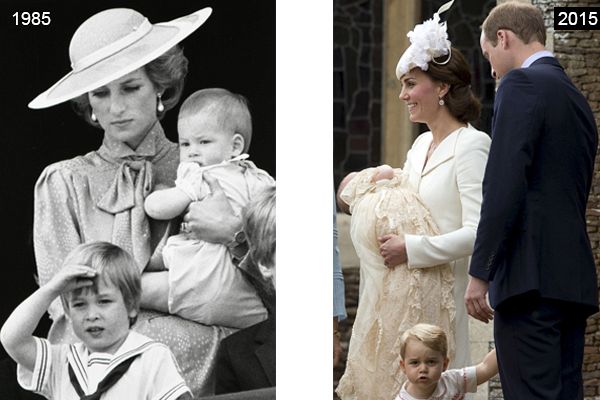 1985
Princess Diana, holding Prince Harry, and Prince William
2015
Prince William with his wife Catherine, daughter Princess Charlotte and son Prince George
1985
The Brazilian soccer team's Junior helps team-mate Socrates
2015
Brazilian footballer Willian
And finally, Doc and Marty McFly, then and now.