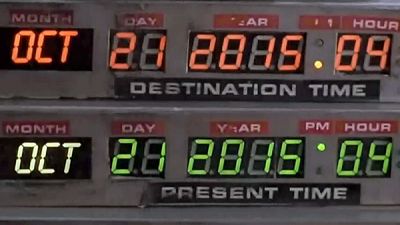 Thousands of film and sci-fi fans around the world are celebrating what's been dubbed Back to the Future Day in honour of the date in which the movie's lead characters crashed through the time-travelling barrier in a DeLorean.
The sequel, released in 1989, has made many wonder what things it predicted then are actually true now
Well, the flying hoverboards are yet to be available in the shops but lots of other tech trends it foresaw are now part and parcel of our lives. Even the lead actors Micheal J Fox and Christopher Lloyd have been brought together in a series of ads to discuss what the movie got right.
Wearable tech is already in many people's wardrobes so who knows what the future may bring. One thing is certain though, director Robert Zemeckis has ruled out a fourth installment in the series.