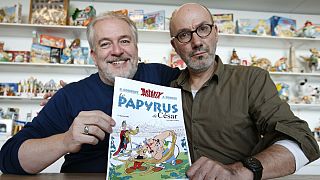 A sneak peak of "Asterix and the Missing Scroll". It is the 36th edition of the famous adventures of the Gauls and it was unveiled in Paris.
Asterix and his friend Obelix are once again poised to set the Roman empire on fire that sees them team up with a journalist inspired by the real-life Wikileaks founder, Julian Assange.
Other new characters are set to appear in the new escapade include a publicist and former image adviser to two former French presidents.
"The central theme is really information and the control of information and the dramatic notion that surrounds this and we see immediately the conflicts that come from this and of course this wasn't enough, there needed to be something else, so the basis was the Gallic Wars," explained Asterix Cartoonist Didier Conrad who has once again teamed up with scriptwriter Jean-Yves Ferri.
The duo made their debut in 2013 with Asterix and the Picts. It was the first volume to be written by someone other than the creators Rene Gosciny or Albert Uderzo. Goscinny passed away in 1977. Uderzo, who quit drawing in 2011 said he was "blown away" by the new adventure.
"Uderzo is a sober person and quite reserved. So he was happy with the original idea and for us it was a source of great satisfaction because he is our best reader. If Albert is happy, then this is a good start," said Ferri.
Four million copies of "Asterix and the Missing Scroll" will be printed, half in French and the other half in foreign languages. The international release will be on October 22.
Read more about the adventures of Asterix and all his friends.