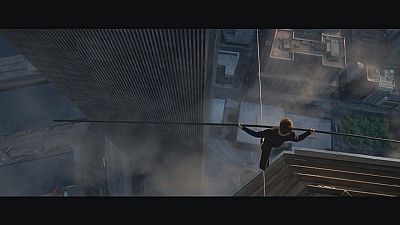 In 1974, Frenchman Philippe Petit walked a tightrope between the Twin Towers of the World Trade Center. Called the artistic crime of the century, it's now the subject of a new vertigo-inducing movie from Robert Zemeckis which stars Joseph Gordon-Levitt as the lead.
The stunt had been six years in the making, Petit had dreamed of walking the wire between the towers since he was 17, a feat Zemeckis and his lead actor saw worthy of committing to the silver screen.
"I think we all have those things in our life, those dreams that seem impossible," says Gordon-Levitt. "Whether it's something in our job or something in our love life, or whatever it is, something that we would love to make happen, but our inner voices say 'You can't. It'll never work. You should just give up.' Here's the story of a man who wouldn't listen to all those voices and just pursued his dream anyway. I think that's an inspiring story worth telling.
"Philippe is still alive and well and awesome. He, in fact, insisted on being the one to teach me how to walk on a high wire and, not everyone who is good at something is also good at teaching it, and he's actually a fantastic teacher."
Now 66, Petit began wire-walking as a teenager but was impressed at how quickly his Hollywood pretender took to the wire.
"It was actually hard work because we only had eight days and it was basically 9 to 5 with a little sandwich in the middle and he was very open minded. Very respectful. We had a great time. We laughed a lot. We worked very hard. The first day was a line on the floor and the last day, by himself, he was seven feet high, 30 feet long, carrying the heavy pole and that helped the movie."
The story of his famous feat has already been the subject of the 2008 Oscar-winning documentary 'Man on Wire', but critics are praising the injection of fiction to the tale.
The Walk is on release around the world in IMAX 3D and regular 2D, which may be better for those afraid of heights.