Croatia opens border with Serbia; migrants flood across the frontier
Comments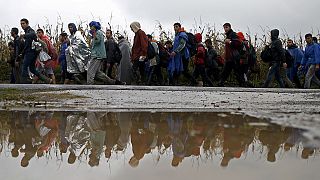 Croatia has opened its border with Serbia allowing thousands of cold,wet and exhausted people into the country.

Thousands of refugees rush across as Croatia opens border with Serbia http://t.co/62uFOjvvImpic.twitter.com/LzhI4vgk9H

— DAILY SABAH (@DailySabah) October 19, 2015
Earlier thousands of migrants were stranded at the Serbo Croat frontier as Croatian police kept them at bay.
The Croatian government took the decision to ease the bottleneck late in the day.
Croatian Prime Minister Zoran Milanovitch explained the decision:
"Obviously, yesterday we kept five to six thousand people from coming in on the other side, in Serbia. It's apparent that this is no solution, so we will let them through, we will send them towards Slovenia."

UPDATE: After a full night and day in the rain, the 3000 people blocked at the #Serbia#Croatia border are crossing pic.twitter.com/Jj87UT6cQs

— MSF Sea (@MSF_Sea) October 19, 2015
The tide of humanity will now troop toward Slovenia, which has limited the number of those entering the country to 2,500 a day.