Hundreds of rescued migrants and refugees arrive in Cagliari
Comments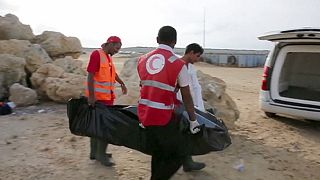 The Italian Coast Guard says the 781 migrants and refugees rescued off the coast of Libya over the weekend have arrived in Cagliari in Sardinia.

This morning, 781 rescued migrants arrived in Cagliari, Sardinia on Norwegian Siem Pilot. #Tritonpic.twitter.com/M07zdn14qi

— Frontex (@FrontexEU) September 3, 2015
The people were rescued in six different operations coordinated by the Italian navy.

781 #migrants on board of the Siem Pilot are now heading to Cagliari in Sardinia - rescued yday 15nm off #Libyapic.twitter.com/lvNNPtyWMJ

— Andrea Rosa (@ndrearosa) September 2, 2015
Eight people died while trying to cross the Mediterranean on Saturday and Sunday.
Stefano Campesi is from the Italian Civil Protection:
"The first thing we have to do it set up a camp, that is our main job. This is a complicated process as we have to set it up and dismantle it in 24 hours."
Meanwhile, the Libyan Red Crescent have retrieved the body of a person that washed up along the Garabulli shoreline, some 64 kilometres east of Tripoli.
The Red Crescent says the victim drowned within the past 24 hours and there are fears more will be found.
The International Organisation for Migration says that more than 2,600 migrants have died in 2015 crossing the Mediterranean.