Germans rally to support mayoral candidate stabbed in 'anti-refugee attack'
Comments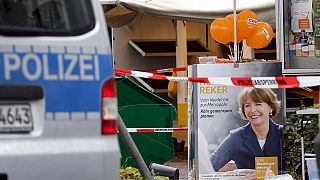 Germans took to the streets of Cologne on Saturday in solidarity with Henriette Reker, the mayoral candidate.for the city who was stabbed and seriously injured in an apparent protest attack over her support for refugees.
It is important to send a message against xenophobia
With Sunday's election going ahead as planned, regional politicians from various parties joined forces to condemn violence, described by some as an "intimidation attempt".
"We are standing together as democrats to send a signal against this abhorrent act, to show that…beyond party politics…we are defending democracy together," said Hannelore Kraft, state premier of North Rhine-Westphalia.
Reker, an independent supported by Angela Merkel's conservatives, was stabbed in the neck in what police say was a "targeted and deliberate" attack.
Police said the attacker stabbed Reker who was seriously hurt, along with an aide, at an information stand for the Christian Democrats (CDU), Merkel's party. Three people were injured immediately afterwards, though not seriously.
Eyewitnesses said the attacker went straight for Reker.
According to German media reports, the 44-year-old man arrested said he was afraid foreigners would take German jobs and that Sharia law would be imposed.
But, at a candlelit vigil in Berlin on Saturday night, peace activists took a very different view of Germany's decision to welcome up to a million new arrivals this year.
"It is important to send a message against xenophobia and to show that we want to help people suffering because of poverty and war," said Andrea Erbgut, one of those taking part.
"We are a rich country and I think 'we will manage it', as Mrs Merkel says."
Demonstrators also called for more to be done to tackle the root causes of migration in war zones such as Syria.
Chancellor Merkel, whose popularity has dropped sharply over her handling of the refugee crisis, was visiting Turkey on Sunday with the issue at the top of her agenda.
Merkel's popularity is at its lowest since the start of the euro crisis. Why? Immigration http://t.co/L5gvAStDz5pic.twitter.com/k8x08i5A9N

— The Economist (@TheEconomist) 9 Octobre 2015