INTERPOL creates specialist network to combat people smuggling
Comments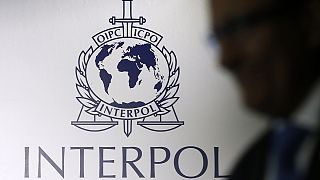 INTERPOL and Europol, two major transnational law enforcement agencies, have outlined fresh measures to break up the organised criminal networks behind people smuggling.
Following an international conference they are to establish a specialist division to counter people smuggling in and across the migration routes
INTERPOL Secretary General is Jürgen Stock
"We have seen that the routes are changing very dynamically. The criminal groups for instance they use, very intensively, the modern technologies of communication, social media for instance.
So there is a need for not just a bilateral sharing of information or a regional sharing,there is really a need for a global sharing, a transcontinental sharing of information."
#MigrantSmuggling Forum: #INTERPOL's Mick Moran discussing the use of social media in people smuggling. pic.twitter.com/URFEQmNiD1

— INTERPOL (@INTERPOL_HQ) October 16, 2015
The flow of migrants into Europe has become a flood in recent months and Austria is inundated with people looking to find safe haven in either Germany or Sweden.
Up to 1,000 migrants a day are crossing into the country.
Austria's Criminal Intelligence Service has plotted the development of the crime networks and routes.
It claims the groups are highly professional and international.
Colonel Gerald Tatzgern is from Austria's Criminal Intelligence Service:
"It has become very serious and dangerous for the migrants because more and more people, specially from, Bulgaria, Romania, and others, they started to jump or to move from other crimes to human smuggling crime, which is very,very dangerous. They are not aware what they are doing, they are pushing a lot of people into lorries and so on. "
Over the summer 71 people were found dead from asphyxiation in the back of an abandoned truck on a motorway in Austria. The grim discovery sent shockwaves across the globe and galvanised authorities to act.

Bulgaria charges three men over dead migrants in lorry in Austria - http://t.co/ZK9D8IVtY5#Pakistanpic.twitter.com/psrzwXg6Cs

— BreakingNewsPakistan (@BreakingNewPak) September 5, 2015
Colonel Gerald Tatzgern continues:"You would not believe it, but two weeks ago we rescued three people from a separate hide-out, a tank in a lorry, and they almost suffocated, two weeks ago in Vienna."
These international criminal organisations are motivated by huge profits, this in turn finances other avenues of illegal activity.
It is a dirty business and something the law enforcement agencies are determined to stamp out.