Syrian bid to retake Aleppo from rebels begins on southern outskirts
Comments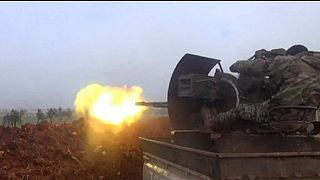 The Syrian regular army says it has begun a fresh offensive in a bid to retake the country's second city and former economic powerhouse Aleppo. Government forces are being supported by Hezbollah fighters and Iranian troops, and are also receiving Russian air support, attacking the south of the city.
The Russians continue to insist that they are concentrating their sorties on ISIL targets, and on Friday the defence ministry announced it had agreed all the necessary technical questions needed to sign a deal with the USA to prevent their planes clashing in the skies over Syria. It added that a final memorandum would be signed in the near future.
The latest available amateur video claims to show Russian planes attacking a rebel ammunition depot in the city. Ten days into the Syrian counterattack rebels claim the main beneficiary has been ISIL, which has moved into areas vacated by rebels.