Calls for more solidarity with refugees as Bulgarian border guard shoots Afghan migrant dead
Comments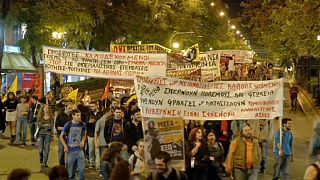 Hundreds of Greeks marched in Athens on Thursday night to demand more solidarity with refugees, as it emerged that a Bulgarian border guard had shot dead an Afghan man trying to enter the country from Turkey.
Students, workers and human rights activists were among those rallying in the Greek capital, in support of
those fleeing war and persecution.
"We need to open the borders, to stop the fence, to bring down the fence in Evros so that we can create a safe passage for the refugees from Syria and Afghanistan to pass through the country and go wherever they want in Europe," said protester Katerina Papadouli.
The migrant killed in Bulgaria had been travelling with a large group of refugees from Afghanistan when he was shot by a border police officer near the southeastern town of Sredets late on Thursday, according to a senior
interior ministry official.
"Our border patrol of border guards and police in the area had stumbled on 50 offenders, who illegally entered the country," Georgi Kostov, the chief secretary of the interior ministry, told national radio.
"They put up resistance during the arrest. One of the officers fired warning shots and, in his words, one of the migrants was wounded by a ricochet and later died," he said.
The prosecutors are investigating the incident – the first since the start of a refugee influx in the Balkan country two years ago.
Tens of thousands of migrants, most of them fleeing war and hardship in Syria, are trying to reach Western Europe through the country and its neighbours, Greece, Macedonia and Serbia.
Bulgarian Prime Minister Boiko Borisov left the EU summit on refugees in Brussels and returned home after hearing of the incident.
Earlier on Thursday, some 2,496 migrants were brought by passenger ferry from the Greek islands to the port of Piraeus, near Athens.
There has been no let-up in people making the dangerous sea crossing from Turkey or in the tragedies that can result.
At least seven migrants drowned off the coast of Lesbos on Thursday after a collision between their boat and a Greek coastguard vessel. Among the dead were three children and a baby.
Tragically 3,000+ people have died at sea this year attempting to find safety in Europe http://t.co/Mi2HWK6nQhpic.twitter.com/RCubvhyQLK

— UN Refugee Agency (@Refugees) 14 Octobre 2015