Turkey clashes as mourners prevented from reaching rally
Comments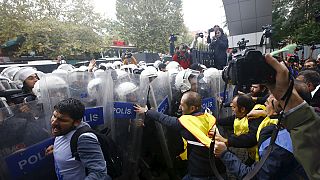 Clashes erupted in the Turkish city of Istanbul on Tuesday (October 13). Trade union members who lost friends and colleagues in Saturday's twin explosions had organised a rally to commemorate the victims.
Police pushed back people trying to reach the rally after it was banned by Turkish authorities.
The pro-Kurdish HDP party had helped organise both Saturday's peace rally and Tuesday's commemoration, with the help of several unions who called for a two-day general strike across Turkey.
"People decided to go on a two day strike," explained HDP's co-leader Demirtas. "Police are charging at strikers everywhere, following government orders. Even three people cannot come together to commemorate. It is only him [Prime Minister Ahmet Davutoglu] that can commemorate. They do not allow us to own our own funerals."
The Turkish prime minister paid his respect to those killed in Saturday's blasts. He was joined by his wife and government officials who laid flowers and said prayers.
Meanwhile hundreds of students arranged a sit-in outside Ankara University. They hold the names of the 97 victims of Turkey's bloodiest terror attack.
A moment of silence was held at 10.04 a.m. – the time when the blasts ripped through their city.