Deadly weekend for Nigeria's neighbours amid attacks blamed on Boko Haram
Comments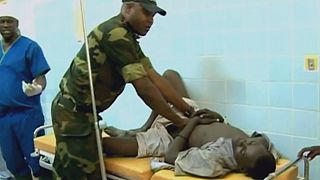 Nigeria's neighbours are reeling after a weekend of bloodshed blamed on the militant group Boko Haram.
At least nine people were killed and many more injured in Cameroon on Sunday near the far northern town of Mora.
Local government and military sources blamed two female suicide bombers suspected to be members of the Nigerian Islamist group.
Two female suicide bombers have killed nine people in Cameroon http://t.co/K36Tywz312

— Daily Mail Online (@MailOnline) 12 Octobre 2015
Boko Haram has stepped up attacks in Cameroon since the country started cracking down on the radical Islamists who have used the far north as a base for recruitment and supplies for their operations in Nigeria.
The violence has also spilled into Niger and into Chad where more than 40 people were killed on Saturday in a triple bombing blamed on Boko Haram.
The countries affected have formed a coalition to confront the extremists.
At least 17,000 people have been killed since the Boko Haram insurgency began in 2009.