Friday flare-up in Middle East violence sparks claims of new intifada
Comments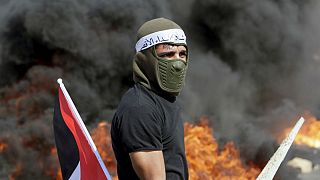 A fresh spate of knife attacks on Friday marked a further escalation in the spiral of Middle East violence.
Four Arabs were stabbed and injured in southern Israel in apparent revenge for a wave of stabbings by Palestinians targeting Israelis in recent days.
A Jewish suspect was arrested following the stabbings in the town of Dimona.
Police said the motive appeared to be 'nationalistic'.
Also on Friday, a Jewish teenager was stabbed in Jerusalem. Near Hebron, an Israeli policeman was stabbed by a Palestinian who was then shot dead.
As tension escalates over access to Jerusalem's al-Aqsa mosque compound on a site revered by Muslims and Jews, the leader of Hamas in Gaza, Ismail Haniyeh, praised Palestinians who have carried out lone wolf attacks and said a new intifada is underway.
"Today we say for the heroes of the knives, for those who go for individual operations and for our relatives in the West Bank and Jerusalem and everywhere, here in Gaza we will not forget what we have to do," Haniyeh said.
In northern Israel, police said an Israeli-Arab woman was shot and wounded after trying to stab a guard at a bus station.
Even before Friday's flare-up, the upsurge in violence had seen four Israelis killed in attacks and at least three Palestinians shot dead in clashes as anger boils over.