Israelis and Palestinians clash in West Bank on 'anger day'
Comments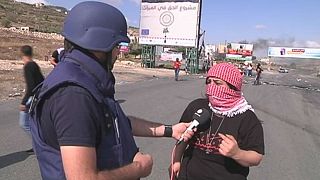 Clashes between Palestinians and the Israel Defence Forces (IDF) erupted after Friday prayers in several cities across the West Bank.
Euronews correspondent Mohammed Shaikhibrahim reported from the Hewara checkpoint near Nablus. He reported dozens of Palestinians throwing stones and petrol bombs at the Israelis who responded with tear gas, rubber bullets and "sometimes real bullets," according to an English translation of his report.
Dozens of Palestinians have been wounded.
"Today is anger day," said one Palestinian woman. "We are here to take revenge for our people and our martyrs, and to revenge from those who occupy our country, we are all men and women at the front line to fight them."
A Palestinian man said: "Our message to the Israelis who occupy our country is: we will keep fighting them until the last drop of our blood, until we force them to leave us, we will do all what we can to achieve this."
The violence has sparked fears of a new Palestinian Intifada, or uprising.
"We don't know if its is the third Intifada or just a wave of escalating violence between the Palestinians and Israelis. Here on the ground, it appears that the path to peace between the two sides is a long one," reported Shaikhibrahim.