PEGIDA rallies against refugees in Dresden
Comments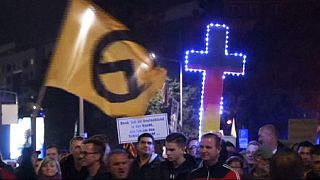 Several thousand people have gathered in Dresden to protest against Chancellor Angela Merkel's plans to take in refugees.
The anti-migrant group known as PEGIDA organised the demonstration. Their members stand against the so-called "Islamisation" of the West.
They want Germany to close its borders.
Max Haupt, PEGIDA supporter said:
"I am convinced that Mrs.Merkel's politics are against national interests. I'm very disturbed about that. It's almost treason. She has forgotten the oath she gave when she was sworn in."
Images from anti-migrant march in Dresden, Germany by group PEGIDA. pic.twitter.com/TtyPqCqmSD

— Katie Orr (@1KatieOrr) October 5, 2015
But not everyone supports PEGIDA and elsewhere in Dresden a counter rally was staged.
"I know about the situation of refugees," said one man."I know why they are here. I know a few. I'd also flee the country if a war broke out here. That is why I can't understand this intolerance. We're sitting on thrones here."
Although Germany initially welcomed the refugees from Syria and Iraq, the numbers arriving in the country have caused cracks in Merkel's right-wing bloc and the government has announced new measures to make the asylum process more difficult.
A newspaper report claims that German officials anticipate 1.5 million people to apply for asylum this year – that's double the figure previously published.